On the occasion of Children's Day, Shaadi.com, the world's largest matrimonial service conducted a survey among married couples, which reveals that 62% of men desire to have more children as compared to 38% of women.
According to men, children are central to their lives and believe them to be indicators of a successful marriage, so they prefer having more babies. On the contrary, women who traditionally take care of children at home are less likely to want more kids, as they feel it's time consuming (about 70% of women feel so) and requires serious commitment (56% of women say so) to raise children. But, if there is a single child, the couple will be able to provide the best to their kid. Hence, women prefer single child. The survey was conducted in order to gauge the changing preferences of Indian couples having multiple children.
The pie chart below showcases the typical number of children that Indian couples living in the metros have today: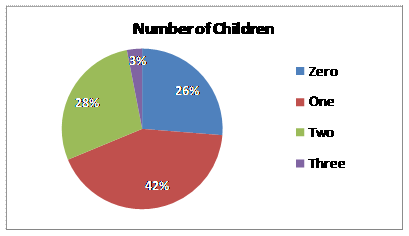 An interesting finding which needs to be highlighted is that married couples in metro cities, who have a single child is 42% as opposed to 28% married couples having two kids. The expectation of a single child is observed more between couples who've had a love marriage (as 49% say so) as compared to 62% couples who prefer having 2 kids in an arranged marriage. Respondents that cited wanting multiple kids did so, as they wanted to raise a son as well as a daughter (67%) primarily. Other reason cited was that couples' desire of raising a big happy family (45%).
Marriage brings with it the responsibilities of building and maintaining a family. With both, husband and wife working, especially in metros, household responsibilities should be shared between couples. Though men prefer having more babies, the findings reveals that 75% wives are primarily responsible for taking care of children and getting their homework done as compared to 25% of men. Commenting on the survey results, Gourav Rakshit, Business Head, Shaadi.com said, "The findings reveal that men seem to still believe in the 'Hum do Humare do' concept as compared to women. However, due to the hectic schedule of married couples the one child preference seems to be on the rise, especially amongst women in metros."
The survey findings are a part of the Shaadi Aaj Kal report, which was recently launched on the occasion of Shaadi.com's 15th anniversary in collaboration with market research agency IMRB. The report is an in-depth research to showcase and understand what Indian married couples expect from their partners with regards to daily chores, career, social life, etc and the reasons of why – The Great Indian Marriage juggernaut lives on.