Tag: Marry him
Uh Oh. Something is missing. Try double checking things.
meet interesting singles
Youtube
Facebook
Shaadi.com with Misti Debnath and 3 others

It's a day to celebrate the eternal bond between a brother and a sister. A bond of Love...A bond of Togetherness!!

Here's wishing everyone a very #HappyRakshaBandhan :) ... See MoreSee Less
Dolly Anand, Jyoti Dubey and 23 others like this
Robert BjornI am also looking for a worthy Partner, a woman who understands what it takes to be in a relationship, I think the ability to Love, care and respect each other. I want a woman who knows how to treat a man
4 days ago
Navneet KourRaksha bandhan ki baat aayi to kisi ne comment nhn kiya agr kuch romantic update hotaa to sab munh utha k chle aate.. Sab mtlbi sansar hai
6 days ago

· 1
Dan FedoBrand new Apple iphone 6plus,iphone 6 iphone 5s and iphone 5. available here in my company and it is brand new original it also comes with a 1year international warranty and money back to any uncertified customer, you can also buy 5 and get 1 for free this is our promo period hurry now while promo last Assured 48 Business Hours Delivery . Bill and 1 Year warranty. Insurance Money Back Guarantee 100% Original Vaccum Sealed Scamadviser verified Registered with MCA for more information about our product add us : Contact Details WHATSAPP +1415-8531-131 email:cheapdealslimited@ gmail. com Skype:cheapdeals.limited
4 days ago
Twitter

@ShaadiDotCom great i like it but aajkal aese friends milte kaha hai..!
F.R.I.E.N.D.S Fight for you Respect you Include you Encourage you Need you Deserve you Stand by you #ShaadiQuote
Be who you are and say what you feel because those who mind don't matter and those who matter don't mind. #ShaadiQuote


From the CEO of @ShaadiDotCom. My life finally has some meaning. pic.twitter.com/tkpCx0azzA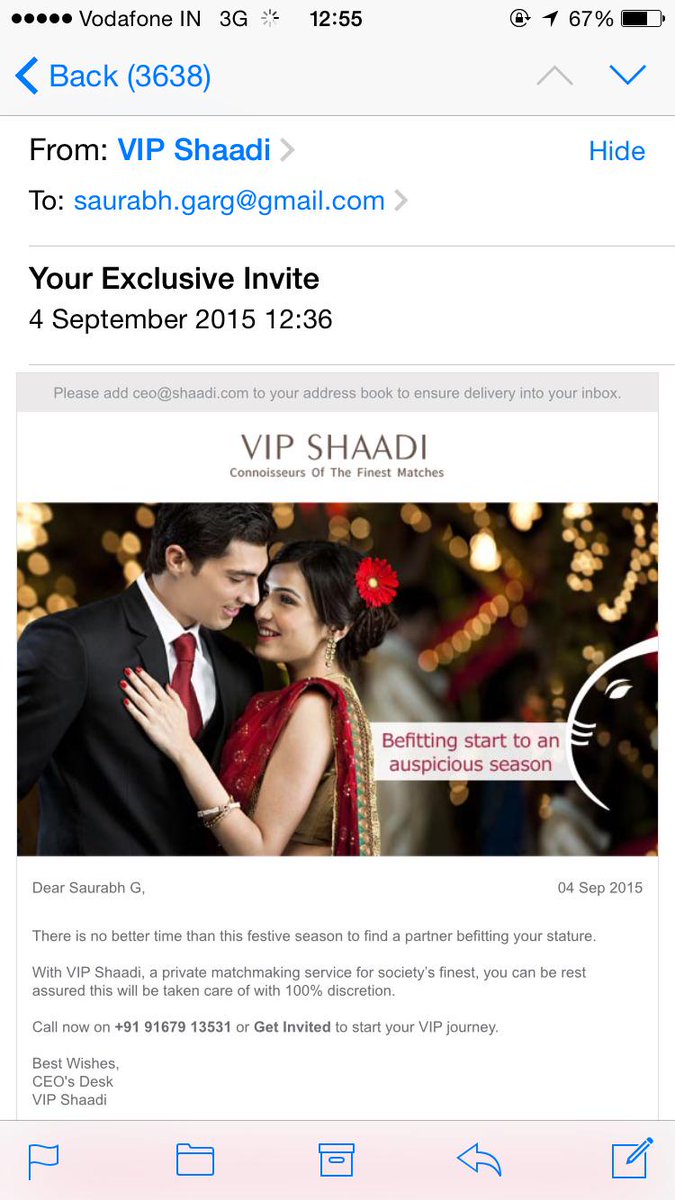 You never know how strong you are until being strong is the only choice you have. #ShaadiQuote
The happiest people don't have the best of everything, they just make the best of everything they have. #ShaadiQuote


A woman has the last word in any argument. Anything a man says after that is starting off a new one ;) #ShaadiHumor
Never make someone a priority when all you are to them is an option. #ShaadiQuote
Follow us on Twitter
Archives